1st "Jewish Community of Mauritius" established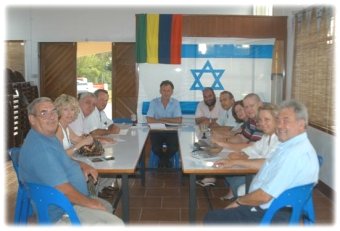 The photo shows the new chairman of the Jewish Community of Mauritius committee Owen Griffith at
the head of the table, with Rabbi Moshe Silberhaft to his left
Nine months after the opening of its first Jewish community centre, the fledgling Jewish community of Mauritius took another important step forward on 11 January this year when its members met to adopt a constitution and appoint a committee. Officially named the Jewish Community of Mauritius, the new organisation is the first formally constituted Jewish communal body comprising Jewish residents and citizens in the history of the island.
Until fairly recently, there were virtually no long-term Jewish residents on Mauritius. Israel-related activities have up until now been conducted primarily by the Amicale Maurice Israel (Mauritian Friendship Club of Israel), established by local Tamils who had been to Israel on various agricultural and other training courses.
The meeting took place in Curepipe, at the Amicale Maurice Israel Center. The Centre, on whose premises are located a small shul, communal hall and offices, was opened on 23 May 2005. Former Australian Owen Griffith was appointed as the committee's first chairman. Also appointed were a vice-chairman, treasurer, fundraiser and secretary. The meeting was presided over by Rabbi Moshe Silberhaft, Spiritual Leader to the African Jewish Congress.
One of the first things Griffith, accompanied by Rabbi Silberhaft, was called upon to do was investigate a case of an anti-Jewish notice displayed on the shop window of a local Muslim trader. The notice, in Arabic and French, bore the inscription, "Keep your house neat, tidy and in good order, not like the lowly Jews". On being approached, the shop owner said he had heard this being said by the imam of his mosque.
Incidents of antisemitism are nevertheless rare in Mauritius. Large Hindu, Christian and Muslim poplulations must co-exist and which under its President, Sir Anerood Jugnauth, a Muslim, has a zero-tolerance approach to racial and religious prejudice.
In the course of his visit, Rabbi Silberhaft also inspected the St. Martin's Jewish Cemetery, in whose restoration and maintenance he has been centrally involved for a number of years. 127 Jewish refugees from Nazism who were interned on the island by the British are buried in the historic cemetery, which was handed over by Deed of Grant to the SAJBD in 1946 and has been maintained by it ever since with the assistance of members of the Amicale.
Rabbi Silberhaft further officiated
at the wedding of a couple from Cape Town, the fourth occasion he had been called upon to officiate at a marriage of South Africans in Mauritius. He suggested that there was a growing trend towards people foregoing traditional large wedding celebrations and instead arranging only for immediate family and close friends to go away together to idyllic locations like Mauritius to celebrate the occasion together over an extended period.