HONEN DALOM – REDEDICATION OF MAPUTO SYNAGOGUE 19 MAY 2013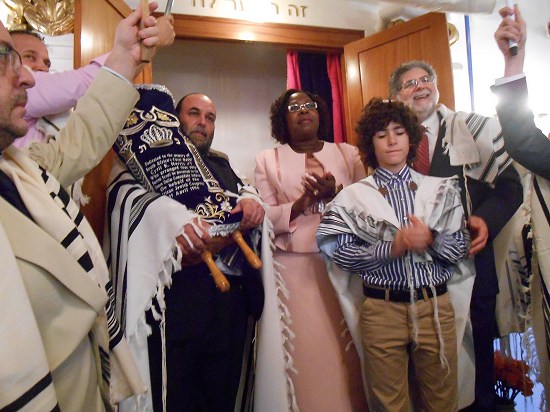 Rabbi Moshe Silberhaft with Mozambique Minister of Justice Dra. Benvinda Levi and congregants

The Jewish community of Maputo, Mozambique, gathered last week in the city's historic synagogue to celebrate the return of the congregation's Sefer Torah. They were joined for the occasion by Minister of Justice Dra. Benvinda Levi, a delegation from the African Jewish Congress (AJC) headed by its president Mervyn Smith and local religious leaders and well-wishers.
The Torah, which was presented to the newly revived congregation by the late Chief Rabbi Cyril Harris in 1993, had been removed to Johannesburg for safe-keeping. At the time the synagogue, was in a state of severe disrepair. It has since been fully restored, with a new roof and reinforced walls, and is in regular use for Shabbat services. Established in 1899, with the participation of Jewish refugees from the Transvaal during Anglo-Boer War, the congregation still bears its original name of Honen Dalim ("Helping the Poor"). The synagogue dates back to 1926, and was opened by Rabbi Professor J H Landau, Chief Rabbi of the then United Hebrew Congregation in Johannesburg.
Participants were presented with a booklet, in English and Portuguese, giving a brief history of the congregation. It was produced by long-serving community member Rogerio Levy-Fonseca, Honorary Consul for the State of Israel and Mozambique's representative to the AJC. He is one of the only locally born members of the congregation, which numbers some thirty active members. Most of the remainder are immigrants from France, Israel, the US and South Africa.
The Torah was carried into newly restored the shul, amidst much festivity, by Rabbi Moshe Silberhaft, Spiritual Leader to the AJC. Messages were delivered by Minister Levi, the Head of the Islamic Community of Mozambique Sheik Aminudin and Israel's Ambassador to the region, Luanda-based Irit Savion Waidergorn. Other speakers included the congregation's President Sam Levy, Ann Harris and Mervyn Smith. Levi stressed that while Mozambique was a secular state, freedom of religion was a firmly-held constitutional principle, and the State recognized religious faith as a source of social tolerance, peace and well-being. Sheik Aminudin commented that Judaism was the oldest of the three main monotheistic faiths and that both Christianity and Islam derived in part from it. He said that diversity in faith and other dimensions was a good thing, and that in Mozambique all groups could learn from one another while maintaining their distinctiveness.
Larry Herman, treasurer and lay reader of the congregation, led the gathering in reciting Tehillim. The ceremony concluded with prayers for Mozambique and Israel and the singing of their respective national anthems, after which participants were hosted by the AJC to a kosher dinner at the famed Polana Hotel.