NAMIBIA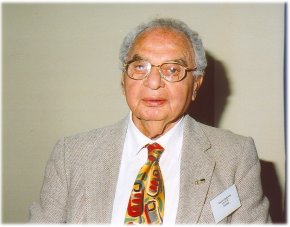 Harold Pupkewitz:
Honorary Life President – Windhoek Hebrew Congregation.
Vice Chairman – African Jewish Congress
We enjoy a democratic form of government under our superb constitution, which guarantees human and property rights, freedom of the press, the rule of law, democratic elections every four years, etc. Our judiciary is independent of the executive and legislative arms of government, but 48 members of the National Assembly comprising 72 members are cabinet ministers or deputy cabinet ministers. We also have a National Council of 26 members with limited powers. In Africa as a whole and even amongst the SADC countries we by any measure are one of the best governed and fourth in the competitiveness ratings for Africa..
We have since Independence enjoyed a reasonable degree of political, social and economic stability and under the new President. H.E. Hifikepunje Pohamba, sworn in on Independence Day 21 March 2005, we are heading for improved country governance, a strict onslaught on bribery and corruption and closer liaison with the private sector. We enjoy a peaceful environment relatively free of crime compared with other African countries and a modern infrastructure as regards telecommunications, power, financial services, etc.
Windhoek, the capital, has a population of over 300 000 and is growing fast, and so are the coastal towns, Walvis Bay and Swakopmund. Visitors are astounded by the modernity, cleanliness, facilities and amenities offered in these three towns and many others. Oshakati and Ondangwa in the Oshana region (part of Owamboland) are also growing and modernizing at a fast pace. To this one may add the big range of sport and recreational facilities and amenities for social, cultural and educational needs.
ISRAEL
At diplomatic level, Israel and Namibia have found themselves since the Middle East peace process started. The ups and downs in the peace process bearing in mind our government's pro-Palestinian standpoint have not disturbed the relationship so far. The Israeli Embassy in Harare was closed down some two years ago and now we are served by the embassy in Pretoria. Namibia has received good help from Israel in the field of health, agriculture, hydrology, education, etc over several years and our government has shown public appreciation thereof.
There are opportunities for investments in Namibia. Telecom Namibia is a regular customer of Israeli telecommunication equipment manufacturers. The Africa-Israel Group paid us a visit in 2004 and expressed great interest in competing for physical infrastructural projects. Two-way tourism started on a small but steady scale some years ago. Young Israelis passing through Windhoek are not infrequently seen on a Friday evening at our regular Shul service. They are happy to experience the beautiful scenery and hospitality of our country.
In 2004 the Leviev Group established the biggest diamond-cutting factory in Africa using diamonds mined by its own vessel offshore. It is proving to be very successful
THE JEWISH COMMUNITY
Our very small Jewish population has dwindled somewhat further. We are now some 10 families, about 30 adults and about 12 children concentrated in Windhoek, in all about 50 souls counting in the few scattered Jews in the coastal towns and elsewhere in our far-flung country.
The Windhoek Hebrew Congregation, affiliated to the Beth Din Johannesburg, maintains its synagogue, built in 1924 and its cemetery where many of the graves were recently refurbished. We manage to raise a minyan on most Shabbat services thanks to the small steady stream of visitors. The 2004 Passover services and the Rosh Hashana/Yom Kippur services were conducted respectively on each occasion by two different young learner rabbis with the help of Chabad. They acquitted themselves well. The same applies to Pesach 2005. Friday evening services are still conducted, mainly by Zvi Gorelick assisted occasionally by Yinon Levy and young Ben Gorelick.
To counteract our relative isolation from the main centers of South African Jewry and to encourage Namibian interaction withy Jewish youth in South Africa, the Windhoek Hebrew Congregation sponsors young congregants to attend various machanes and educational programmes in South Africa.
At the Annual General Meeting, postponed from October 2004 to January 2005, Mr. Nahum Gorelick was elected President, Ms. Lucy Steinitz Vice President, Mr. Brian Rubinstein Treasurer and Mr. Zvi Gorelick Secretary; Mrs. Naomi Hertz, entertainment convenor; Zvi Gorelick, religious matters; Zvi Gorelick and Mrs. Meryl Barry, education..
In 2003 the Windhoek Hebrew Congregation commissioned Richard Newman, Cape Town, to author a book on The Jews of South West Africa/ Namibia. Publication is expected towards the latter half of 2005.
There are some Nazis – young and old – amongst the German population but they do not bother us and are generally marginalised.
In the 1960s we had about 120 families in what was then known as South West Africa. We were splendidly represented in all fields of human endeavour ranging from farming to commerce and industry and in almost all the branches of the arts and professions.
The small Jewish population of Namibia has, since its beginning enjoyed a good reputation as a respectable and progressive community, which contributed to the country's development by far out of proportion to its numbers. In government circles we are favourably regarded and our President is known to be very much in favour of Jews with capital and skills making their home in Namibia. This deserves to be seriously considered by Jews living in the SADC region, as with modern telecommunication facilities and reliable modern financial services available in Windhoek, one can conduct business from Windhoek all over the world.
We look forward to Jews, especially from South Africa, settling here under the relatively peaceful conditions, sound pragmatic governance and attractive economic opportunities in many sectors of the economy that characterize Namibia. Life in Namibia with its friendly people can be very attractive for persons who enjoy outdoor life, the well-known scenic beauty of the country, the coastal holiday resorts, angling, etc.
We aim to carry on in the tradition of the past and trust Dame Fortune will smile on us.