Ambassador and Rabbi meet King Mswati 111 Ė JULY 2012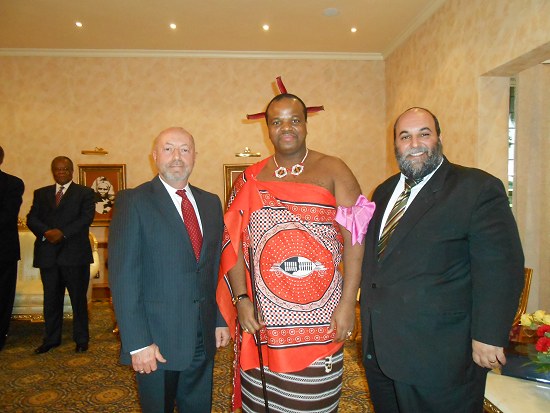 Ambassador Dov Segev-Steinberg, HE King Mswati 111 in his traditional dress and Rabbi Moshe Silberhaft, while Prime Minister Barbanas Dlamini looks on
Ties between Israel and Swaziland were strengthened last week when Ambassador Dov Segev-Steinberg presented his credentials to King Mswati III at his official palace. The ambassador was accompanied by Rabbi Moshe Silberhaft, Spiritual Leader to the African Jewish Congress. Also in attendance at the formal ceremony, which at the Kingís request continued well beyond the time allocated, were the Swazi Prime Minister and Foreign Minister and Geoff Ramakgadi, a local businessman who for many years has helped coordinate the affairs of the countryís small Jewish community.
Israel maintained an embassy in Swaziland until 1999. Today, Israelís envoy to South Africa is also accredited to Swaziland and Lesotho.
King Mswati lauded Israelís upliftment ventures in his country over the years, including in the agricultural field and in running eye clinics. He was happy to accept an invitation to pay a formal visit to Israel in the future. The foreign minister shared his memories of studying at the Galilee College. A touch of local culture was added by the presence of a Praise Singer, who rendered an enthusiastic endorsement of every comment relating to Israelís friendship with and contribution to Swaziland.
During his visit, Ambassador Segev-Steinberg and Rabbi Silberhaft addressed a communal meeting attended by some forty people, roughly evenly divided between Jewish community, including may Israeli business people, and Christian friends of Israel. The latter included a sister of the king whose husband, a priest, twice a year takes groups of pilgrims on religious tours to Israel. Jews in Swaziland, who include a number of Israelis, are involved in various industries, including meat and candle-making. Rabbi Silberhaft inspected the two Jewish cemeteries and also visited the private school Ramakgadi has established.