British monarchy awards Lusaka's
Dr Bush OBE - 2005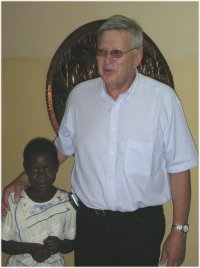 By Webster Malido
Prominent Lusaka physician, Dr Michael Bush, has been awarded the Order of the British Empire (OBE) by the British monarchy. According to Britain's Times Online edition of December 31, 2004, Dr Bush is among more than 40 recipients of the prestigious OBE
honour, created in 1917 by King George V. Dr Bush has been awarded the OBE for his services to HIV/AIDS victims and their families in Zambia.
Born in London, England on February 15, 1939, Dr Bush trained as a dental surgeon and graduated in 1963 from London University's Royal Dental Hospital before graduating in medicine in 1969 from the same university. He hold various post graduate qualifications in medicine from various medical learning institutions in the United Kingdom. He worked as a house surgeon and physician in London before coming to Zambia in 1972 when he worked as a medical officer at Kariba North Bank Project.He was once senior advisor at Lusaka's Corpmed Clinic but is currently senior medical advisor at CBF Medical Centre. Dr Bush, who is chairman and founder of the Zambian Hospice Association, has been honorary medical director for Chilanga Hospice for the last four years.
From 1993 to 1997, Dr Bush was chairman of the Medical Council of Zambia during which period he was instrumental in the establishment of guidelines on the ethical problems surrounding HIV and AIDS.
Dr Bush is founder and chairman of the General Practice HIV Group in Zambia. He was also national secretary of the Zambia Medical Association from 1974 to 1976 as well as founder member and honorary chairman of the Zambia Faculty of General Practice from 1980 to date.
He has been honorary director for the University Teaching Hospital, Society for Family Health and Kara Counselling.
Dr Bush is the father of talented British-based film maker Tanvir Bush, who has produced a film entitled "On the Frontline" filmed on the location of the mother of Mercy Hospice in Chilanga where the terminally ill are being taken care of. The film is about the fight against HIV and AIDS and also shows the depth of humanity and dignity in the face of great devastation.
The Order of the British Empire was created during the first World War in 1917 by King George V. The King recognised the necessity for a new award of honour which could be more widely awarded, in recognition of the large numbers of people in the British Isles and other parts of the Empire who were helping in the war effort both as combatants and as civilians on the home front. The Order of the British Empire is the order of chivalry of the British democracy. Valuable service is the only criterion for the award, and the Order is now used to reward service in a wide range of useful activities. Citizens from other countries may also receive an honorary award, for services rendered to the United Kingdom and its people. There are more than 100,000 living members of the Order
throughout the world.