ZAMBIA JEWISH ENTREPRENEUR DIES
SEPTEMBER 2003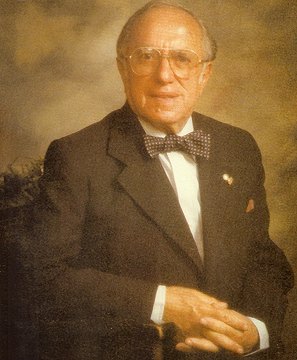 Nearly 200 people, mainly non-Jewish and including many local dignitaries, crowded into the Lusaka synagogue on 23 September to pay tribute to the late Abe Galaun, one of Zambia's most distinguished citizens and doyen of the Zambian Jewish community. Galaun passed away in Lusaka on 19 August and was buried in London, where most of his family now lives. Because of the important role he played in Zambian society over many years, however, a memorial service was arranged for him in his home country as well.
Rabbi Moshe Silberhaft, Spiritual Leader to the African Jewish Congress, presided over the service, which commenced with readings from Psalms 1, 16 and 23 and the lighting of a memorial candle by himself. He then delivered the main eulogy, in which he sketched the main details of Galaun's long and remarkable life, from his birth in Vornia, Lithuania, in 1914, through to his arrival in Zambia just before the outbreak of World War II and subsequent spectacular rise in the meat and agricultural business. So successful was he in the latter field that he had been known in his adopted country as "the man who fed the nation". Galaun was much more than just a businessman, as Rabbi Silberhaft pointed out. He had been involved in a wide range of charitable enterprises, which included providing wheelchairs for hundreds of crippled war veterans and other disabled people.
"Not only was he an integral part of Zambian history. His was also truly one of the most remarkable African Jewish lives of the century" Rabbi Silberhaft said.
Galaun had also been very active in Jewish communal and Zionist affairs, Rabbi Silberhaft continued. He served for twenty years as chairman of the then growing Zambian Jewish community, which at its height numbered some 1200 souls. Later, after the community dwindled, he created the Council for Zambia Jewry as the sole umbrella organisation for those remaining in the country. He was also a founder patron of the Commonwealth Jewish Council in 1981, and in 1986 he and his wife, Vera, were awarded that body's prestigious annual award for 'Services to the Community'. After ties between Zambia and Israel were severed, he became an unofficial conduit for dialogue between the two countries. Ironically for so successful a capitalist, Galaun maintained a close affinity with the socialist ideals he had imbued in his youth, during which he was active both in the communist underground in Lithuania and in the left-wing Zionist movement Hashomer Hatzair.
Amongst the distinguished guests and one of the speakers was Simon Zukas, a Jewish activist who played an important part in Zambia's independence struggle in the post-war era and in 1952 was in fact exiled by the colonial government for being a "danger to peace and good order". Zukas described the outstanding contribution Galaun had made to Zambian society whilst remaining true to his Jewish origins.
"If we go by who contributed his ample energies to build the Zambian economy and who helped to alleviate poverty and suffering in Zambia, I have no hesitation in classing Abe as a true Zambian. He was also a proud Jew: a Zambian Jew" he said.
Patrick Chisanga, representing Rotary International, described the tremendous contribution Galaun had made as Rotary president, not only in Zambia but throughout Africa. He had been a founding member of the Rotary Club of Lusaka in 1954, going on to become District Governor in 1986.
Galaun's older brothers, Joe, Louis and Harry and sister, Leah, immigrated to South Africa, where Louis, a successful property developer, established the upmarket Vorna Valley residential area, named after the family's home town in Lithuania, between Johannesburg and Pretoria. His mother and another sister died in the Holocaust.
Members of the Galaun Family in attendance were his widow, Vera, whom he married in Johannesburg in 1945, and Michael Galaun, one of his two sons. Mrs Galaun, an niece of former S A Jewish Board of Deputies president Cecil Lyons, formally thanked those who attended the gathering and also the many employees of the Galaun empire for their loyal service. Michael Galaun continues to live in Lusaka, from where her runs the Galaun empire and, as president of the Council for Zambian Jewry Ltd, is a mainstay of the now sorely depleted Jewish Community. Most remaining Jews in Zambia today live in Lusaka, coming together for all the Jewish festivals although they struggle to make a minyan except on special occasions.
Rabbi Silberhaft pays regular pastoral visits, which includes overseeing the maintenance of the eight Jewish cemeteries in the country. Despite severe economic difficulties, Zambia is fortunately largely free of the violence and political tension that wrack neighbouring Zimbabwe.