Warm hospitality in Gaborone
OCTOBER 2004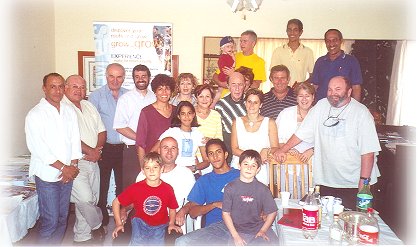 The newly established Jewish community of Gaborone invited Rabbi Moshe Silberhaft, spiritual leader to the African Jewish Congress, together with Dorron Kline, the Aliyah Shaliach for Southern Africa to participate and address a Parshat Lech Lecha Family Day gathering held at the home of the Tsabari family, which also functions a the communities temporary Synagogue.
After opening remarks by Rabbi Moshe Silberhaft, Dorron Kline addressed the gathering on the topic of "Lech Lecha - the first commandment given to a Jew - Aliyah." Dorron based his talk on the commandment given to Abraham by God to leave his home and place of birth, Mesopotamia, and travel to the land of Canaan.
Richard Lyons, Honorary Consul General for the State of Israel and Vice-Chairman of the African Jewish Congress who attended the gathering, expressed confidence in the future of Botswana and its relations with Israel, as the country approaches National Presidential elections