BOTSWANA – A SAFE HAVEN FOR SA JEWS
FEBRUARY 2004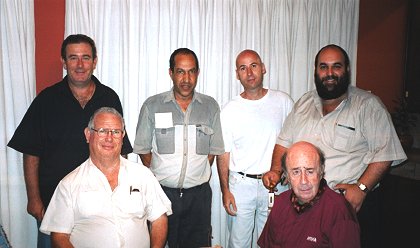 Left to Right – seated: Michael Goldberg, Richard Lyons
Standing: Bryan Fine, Avner Tzabari, Illan Zilberman, Rabbi Moshe Silberhaft
Absent: Lauren Fine
An important step was taken earlier this month to put the Botswana Jewry on a more organized footing with the appointment of a new committee to run the affairs of the small but growing community. The move came in the wake of a well-publicised solidarity visit to Botswana by the African Jewish Congress in December last year, which included a meeting with Botswana President Festus Mogae.
Botswana Jewry is one of the youngest organized Jewish communities in the world, having been formally constituted only in 1994, when a constitution was adopted and the first committee appointed. Because of fluctuating numbers in the years that followed, however, the affairs of the community were taken over on an informal basis by various individuals.
Rabbi Moshe Silberhaft, Spiritual Leader to the African Jewish Congress, made a special visit to Gaborone to participate in the meeting, at which various issues, including the appointment of a committee were discussed. In a departure from the traditional use of the words "Hebrew Congregation", it was decided to simply call the community the Jewish Community of Botswana. Michael Goldberg, a prominent local businessman, was elected as Rosh Kehilla while long-serving community leader Richard Lyons was appointed Honorary Life President. Lyons, the only Jew who is a Motswana (full Botswana citizen) also serves as honorary consul for Israel, vice president of the African Jewish Congress and on the executive of the Commonwealth Jewish Council.
Other office bearers and members are Lauren Fine (treasurer), Avner Tsabari (religious affairs), Bryan Fine (secretary) and Ilan Zilberman.
There are today about a hundred Jews in Botswana, located mainly in Gaborone. It is a young community, having to date recorded only one funeral whilst holding numerous simchas, such as brisses and bar- and batmitzvahs. A Shabbat minyan is held in a private house and a cheder has been set up for the community's twenty children. At last December's meeting with President Mogae, a plot of land was requested for the building of a synagogue or, alternatively, a Jewish community center.