SMALL IN NUMBERS, BUT BIG IN JEWISH PRESENCE – AUGUST 2013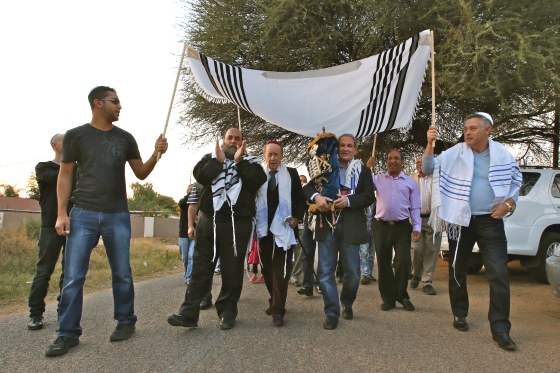 It has no official synagogue, only a handful of its members are as yet permanent citizens of the country and its numbers remain somewhere below the hundred-mark. Despite this, the Jewish community of Gaborone, Botswana, has emerged as an impressively active and committed presence since its establishment some twenty years ago. Comprising mainly South African and Israeli temporary residents, it holds regular Friday night and High Holiday services at the home of Avner and Nurit Tzabari and the demand for kosher food is such that Mrs Tzabari has been accorded recognition as a certified kosher caterer by the Johannesburg Beth Din. Over the years Rabbi Moshe Silberhaft, Spiritual Leader to the African Jewish Congress, has officiated at a number of High Holiday services and bar- and batmitzvahs, and arranged for a mohel to come out for a bris.
On Sunday, another landmark in the history of the young community was celebrated with the holding of Botswana's first-ever Hachnasat Sefer Torah ceremony. The purchase and donation of the Torah was facilitated by Mervyn Lifschitz, an active member of the country's burgeoning diamond industry. Amongst those in attendance as the Torah was jubilantly conveyed into the Tzabari home were Botswana's Minister of Science and Technology Johnnie Swartz and Rabbi Silberhaft. At the conclusion of the function, community members undertook to meet every Monday and Thursday at the Diamond Centre for regular Torah Shacharit readings.
Organised Jewish life in Botswana was launched in the early 1990s by the placing of an advertisement in the local newspaper calling on all 'Minyan Makers' to come forward. This led in due course to the establishment of the Botswana Jewish Community, headed by Botswana's original Jewish 'Motswana' (citizen), Richard Lyons. The latter also serves as Honorary Consul for the State of Israel and has facilitated a number of high level meetings between African Jewish Congress delegations headed by its President Mervyn Smith and the senior Botswana leadership.