The Officers and Trustees of the
Commonwealth Jewish Council and Trust
have pleasure in inviting you to our
25th Anniversary Award Dinner 2009
Guest of Honour: Mayor Boris Johnson
Tuesday 17th November 2009

The Park Lane Sheraton Hotel

Piccadilly

London W1

Reception: 7pm Dinner: 7.45pm Carriages: 10.30pm

Dress: Lounge Suit or National Dress

RSVP: Dinner Secretary CJC & CJT

25 Queen Anne's Gate

London. SW1H9BU

AWARD RECIPIENTS
THE 2009 AWARD - RABBI SILBERHAFT
Born in Jerusalem, Rabbi Silberhaft is the spiritual leader of the African Jewish Congress. He received his Rabbinic Ordination from the Rabbinical Ecclesiastical Court of Jerusalem and studied at Yeshiva College in Johannesburg as well as in the Yeshiva Gedolah in South Africa. In his role as the spiritual leader, he is responsible for Jewish communities in Botswana, Congo and Zimbabwe to name just three. He is also responsible for around 25000 Jewish graves in small towns and villages where Jews once lived. He is married with two children.
SPECIAL AWARD – MARK SOFER
Mark Sofer is at present the Israeli Ambassador of Israel to India and Non-Resident Ambassador to Sri Lanka. Born in the UK, he made aliyah in 1977 following a degree in International Relations and Economics at the London School of Economics. In 1977 he then did a Masters in Political Science from Hebrew University. Between 1979-1981 he did his army service and then he joined the Ministry of Foreign Affairs. He has been posted as a diplomat on four continents and has also worked in the Foreign Minister's office and the Middle Eastern Economic Affairs Department. He is married to Sarah and they have three children.
POSTHUMOUS AWARD – LALIT SURI
Mr Lalit Suri was a highly respected and well regarded parliamentarian and businessman whose life was tragically cut short in 2006 at the age of 59. He was a sitting member of parliament and was elected for a second term in the Indian upper house in 2004. He founded the Bharat Hotel group which trades under 'The Lalit' brand. Currently the brand owns 17 luxury properties, 7 of which are hotels and the remaining ten are set to open shortly.
Lalit Suri was an avid art collector, a keen sportsman and a very generous philanthropist. He supported many charities, the most substantial of which helped to provide free medical camps and mobile medical facilities in rural India. He was a generous supporter of the Commonwealth Jewish Council and Trust. Lalit is survived by his wife Jyotsna and their four children.
---

Zimbabwe needs money, says South African Rabbi
By Moira Schneider
Created 12 Nov 2009 - 3:09pm
The community in Zimbabwe is still in dire need of financial help because of the erosion of the value of their currency, says the South African rabbi in charge of aid efforts.
Rabbi Moshe Silberhaft will be awarded the 2009 Commonwealth Jewish Council and Trust Anniversary Award by London Mayor Boris Johnson on Tuesday.
One of three recipients, he was selected for his "dedication and service to the Jewish people of sub-Saharan Africa and in particular for his brave support and crucial visits with supplies for the remaining Jewish community in Zimbabwe."
Dubbed "the travelling rabbi", Rabbi Silberhaft is the South African Jewish Board of Deputies' country communities' rabbi and also executive director of the African Jewish Congress (AJC).
He ministers to the needs of the far-flung Jewish communities of sub-Saharan Africa, attending to life-cycle events and supplying kosher provisions.
The AJC Zimbabwe Fund, of which he is president, was set up two years ago when the country "started to go into a total economic decline" and basic supplies such as rice, oil, toilet paper and medication were no longer available.
"We were sending up absolutely everything and because there was no electricity for months on end in certain neighbourhoods, we were sending stuff that didn't require refrigeration," he recalled.
"At one stage, during the cholera epidemic, we sent 100,000 water purification tablets."
The fund fed not only the Jewish community, but its domestic employees as well.
"We never ever turned anybody away. If somebody said, 'I've got a [non-Jewish] neighbour who's starving', we said, 'take, of course'."
For about 18 months the rabbi was shuttling back and forth twice a month, visiting both the capital Harare and Bulawayo, the main centres of the Jewish community.
"My safety was always on the line because I was carrying money and medication," he said.
The nature of the aid has now changed, with goods being available in the shops but at five times the South African price.
"People had money then, but they couldn't buy stuff. Now they can, but there are a lot more needy people, so we are sending cash.
"Fifty-one people receive medication that is either unavailable or unaffordable from us every month and we assist 24 people with their monthly living expenses. Some are very, very badly off and due to hyperinflation, their savings have been eroded."
At its peak in the 1970s, there were 7,500 Zimbabwe Jews. Today, there are 250, mostly elderly Jews. The country's only spiritual leader left in June.
"Certain neighbourhoods in Harare haven't had running water in three months — the country is in a continuous state of decline," says the rabbi.
Despite all this, he stresses that there is "a lot of positive" in Africa.
He hopes that the award will create awareness that there is "vibrant" Jewish life in the communities he serves, for which financial assistance is sorely needed.
The other recipients of the 2009 Commonwealth Jewish Council and Trust Anniversary Award are Mark Sofer, Israel's ambassador to India, and Lalit Suri, an Indian parliamentary who will receive the prize posthumously.
---
PROGRAMME
HAMOTZE REV. MALCOLM WEISMA
***
WELCOME AND INTRODUCTION TO THE COMMONWEALTH JEWISH COUNCIL &TRUST FLO KAUFMANN JP
***
INTRODUCTION TO BORIS JOHNSON, MAYOR OF LONDON
***
AWARD PRESENTATIONS
JEFF DURKIN TO INTRODUCE THE 2009 AWARD WINNER,
RABBI MOSHE SILBERHAFT
LORD JANNER OF BRAUNSTONE QC TO INTRODUCE JYOTI SURI WHO IS ACCEPTING THE POSTHUMOUS
AWARD IN MEMORY OF LALIT SURI
FLO KAUFMANN JP TO INTRODUCE SPECIAL AWARD WINNER,
HIS EXCELLENCY MARK SOFER, ISRAEL'S AMBASSADOR TO INDIA
***
INTRODUCTION TO THE CHIEF RABBI, LORD SACKS OF ALDGATE
SIR GAVIN LIGHTMAN
***
CHIEF RABBI, LORD SACKS OF ALDGATE
***
TOAST TO THE QUEEN - SIR JACK ZUNZ
TOAST TO THE COMMONWEALTH - SAMUEL MARSHALL
TOAST TO THE STATE OF ISRAEL – HANS W SALZER-LEVY
***
APPEAL – JEFF DURKIN
***
GRACE AFTER MEAL – REV. MALCOLM WEISMAN
***
CLOSING SPEECH – LORD JANNER OF BRAUNSTONE, QC

---
Introduction to Rabbi Moshe Silberhaft by Jeff Durkin Co- President
You're Majesties, Your Excellencies, Chief Rabbi, Mayor Boris Johnson, My Lords, Ladies and Gentlemen
One of the highlights of our Annual Dinners is the presentation of Awards to persons from Commonwealth countries, usually, but not exclusively Jewish who have contributed in an extraordinary way to their local Jewish community and/or to the wider community of which they are an integral part.
I have the honour and privilege to introduce Rabbi Moshe Silberhaft as the recipient of the first award this evening. Like our previous speaker Mayor Boris Johnson, Rabbi Silberhaft is an extraordinary, larger than life, character.
Rabbi Silberhaft was appointed in 1997 as the spiritual leader to the African Jewish Congress an organisation dedicated to supporting Jewish communities in Sub-Sahara Africa. This includes, as well as South Africa, Botswana, Zaire, Kenya, Lesotho, Mauritius, Mozambique, Namibia, Uganda, Swaziland, Zambia and of course Zimbabwe.
Rabbi Silberhaft performs weddings, bar and bat mitzvahs, delivers kosher food and other Jewish items, restores and oversees the maintenance of Jewish cemeteries and many more things besides. His role is spiritual, pastoral and practical.
I would like to give you 2 small examples of the Rabbi in action. Both are referred to in his website blog.
In January 2007 there is an entry entitled "Relaxed newlyweds and Rabbi" (surely a contradiction in terms?) which reads "Rabbi Silberhaft, adventurous and undaunted by anything out of the ordinary took up the challenge and arranged a fully kosher wedding reception with food flown in from Jo'burg and served on tables on the beach. Our thanks go to Rabbi Silberhaft and the staff and management of the Sugar Beach Resort for turning our weddings into a perfect day". Signed by the new Mr and Mrs Jacobson.


In April 2007 there is an entry from a Jewish person in Swaziland "As usual the community helped me finance the burial. I sought advice from Rabbi Silberhaft and eventually got a Christian priest to read from the Old Testament and my mother had a burial as she would have wished".
At present most of Rabbi Silberhaft's precious time is spent in providing support to the imperiled Zimbabwe Jewish community, once 7000 strong, now comprising 450 mainly elderly and vulnerable members. As he has said, "we provide everything from medication to rent to basic foodstuffs. Nothing is affordable, nothing is available. We send water purification tablets because the water is no longer safe to drink. We send toilet paper because there is none".
In our Jewish religion the most important moral and ethical duties are those owed by man to his fellow man. These are characterized by acts of kindness (chesed) and by acts of charity (tzedakah) by one person towards others. Rabbi Silberhaft exemplifies these qualities in an extraordinary way.
He tirelessly continues to travel each month to Zimbabwe to support that community, often at personal risk to himself and at considerable cost to his health.
Apart of course from our other Award recipients, I cannot think of a more appropriate person than Rabbi Silberhaft to receive an CJC Annual Award tonight.
---
Prepared acceptance speech. –Rabbi Moshe Silberhaft - 17 November 2009
Your Royal Highnesses - Your Excellencies - Chief Rabbi – my Lords - Ladies and Gentleman.
Dear Friends, we are told in Pirkei Avot that a wise man does not speak before him who is greater than he - in wisdom but as an expression of my gratitude to The Commonwealth Jewish Council and Trust for this award it is incumbent on me to do so even in the presence of the illustrious and learned people present tonight.
I am humbled that I should be chosen for this very great award and am honoured to be in the presence of Chief Rabbi Lord Jonathan Sacks and thank him most sincerely for being here.
I wish to thank the large delegation who travelled from Southern Africa, including Zimbabwe & my son Yosef who recently made aliyah and travelled from Israel to be here tonight.
While I truly believe that the honour is shared with those who made my work possible, I particularly want to thank Mervyn Smith, president of the African Jewish Congress, (who happens to be my boss!). Without his passion, unstinting guidance and wisdom, we would not have achieved what we have and I would not be standing here tonight.
I thank Ann Harris for her support and care and similarly, I thank my parents for everything, for their love and dedication. With thanks to Almighty G-d, I am delighted they could be here to share this event with me tonight.
As I said earlier, I am deeply humbled by this award. I know I am not the hero in the story being acknowledged here.
Indeed, I accept this award on behalf of others; specifically, the beneficiaries of the African Jewish Congress's work.
I was privileged to have been touched, personally and profoundly, by the life of another son of the Commonwealth, by the late Chief Rabbi Cyril Harris (alav hashalom) whose emphasis on the universality of the Jewish message of tikkun olam, of repairing the world, was heard by so many people, Jews and others, in the years leading up to and after the end of apartheid.
He stated in his booklet "The Jewish Obligation to the non-Jew" (and I quote) "Faith is the essential unity of humankind, as creatures of one G-d, and as descendents of one common ancestor, provides the foundation for the proper development of inter-community relationships. Recognising the moral imperatives governing human affairs, men and women of goodwill can face up to the challenge of our time and make the caring society a reality."
This, more simply said, means that living Jewishly involves more than kosher food. It also includes tikkun olam, making the world a better place.
I'd like to believe that, by helping the people in the communities to which I minister maintain the Jewish aspects of their lives as they want to do (including the life cycles, the births, bar & bat mitzvot, marriages and sadly far more frequently the funerals, the Jewish holidays, kosher meat, matzo and wine on Pesach), our work through the African Jewish Congress supports them in their work of tikkun olam.
Part of the beauty of our work is the knowledge that, given the importance of their Jewishness in their lives, this enables them to continue to live and engage in Africa, and to support people in their local and wider communities, contributing to their lives in different ways.
I deserve this award only to the extent that my activities help them endure in the face of the enormous challenges with which they live, especially in the beleaguered country of Zimbabwe.
I am thinking, for example, of Ruth and Alan in Bulawayo, Zimbabwe, perhaps the most troubled corner of the Commonwealth today.
Every month I send kosher chickens and other supplies including chronic medication to Savyon Lodge, the Jewish home for the aged in Bulawayo.
Fortunately, it is no longer necessary to send truck loads of staple food items to the recipients of assistance from the AJC Zimbabwe Fund of which Sam Benatar is Chairman, and I am pleased to welcome him here this evening. As there is an abundance of these items available today in Zimbabwe – albeit at exorbitant prices we now send envelopes of cash to these recipients to purchase food and supplies of their choice at their convenience.
In today's harsh reality in Zimbabwe, Alan and so many other Jewish businessmen, keep their factories open only in order that their staff, often running into hundreds, remains employed. They know that often each employee has 4 – 6 dependants, relying on them for basic sustenance.
And, single-handedly, Ruth established the Support Group of Families of Terminally Ill, or 'SGOFOTI' an organisation devoted to providing emotional and psychological support to the families of HIV/AIDS in Zimbabwe.
I am aware that our work enables organisations such as the London-based World Jewish Relief to engage as they wish in Africa. Partnering with SGOFOTI, the World Jewish Relief provides school fees for 67 children affected by HIV/AIDS - the majority of whom live with grandparents who are unable to afford the fees.
Individuals also work through my office.
For example, South African-born Lauren Klavansky formerly of Bethlehem and Sheryl Furman formerly of Marquard (whose aged parents I hooked up to her wedding in Australia via cell phone at four o'clock one South African morning as they were too ill to travel to her simcha) - represent a small NGO called Australia Books for African Children. They send books to Bulawayo, to the library established by Ruth, which she sweetly named "The Rabbi Moshe Library"
Recently, I performed a particularly moving funeral for someone I have known for fifteen years. Arnold Swift, affectionately known as Malume (Swazi for 'Uncle') the son of Rabbi Swift, a British rabbi who served in South Africa, chose to return to South Africa 1994 to devote what would be the last years of his life to uplifting black people.
He went to live among the African community on a farm school called "Running Waters", in Hazyview near White River/Nelspruit, an outlying community I have developed.
Apart from his interactions with me, he didn't maintain close contact with the Jewish community.
The choices he made in helping to uplift the lives of the people he met, however, were consistent with the lessons about human relationships which he learnt from his parents who were devoted Torah Jews.
He became renowned for the generous assistance he rendered to countless individuals, ranging from paying school and tertiary education fees, tutoring geography and mathematics, providing accommodation and clothing where needed and assisting with transport to school or hospital.
It was not a surprise that the local people knew that, on his passing earlier this year, I was the first person to call and that they knew to bring me his tallit and tefillin.
I buried him in his tallit - which I am told he prayed in at home every Shabbat morning.
His respect for them as human beings - worthy of the dignity that comes with a better life - was matched at the end of his life by their respect for him as a Jew.
It has been a privilege to share a life journey like this.
Again, I thank the Commonwealth Jewish Trust for honouring me in this way, and all of you for sharing what amounts to the best birthday bash imaginable.
Thank you.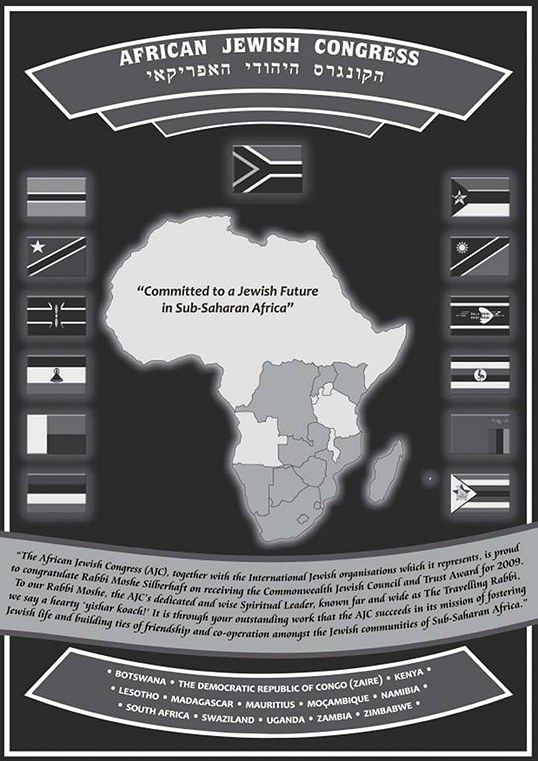 | | | |
| --- | --- | --- |
| SOME MEMBER OF THE SOUTHERN AFRICAN DELEGATION | ANN HARRIS, RABBI MOSHE SILBERHAFT & MERVYN SMITH | CHIEF RABBI LORD J SACKS, RABBI MOSHE SILBERHAFT & YOSSI SILBERHAFT |
| RABBI MOSHE SILBERHAFT, CECILIA KRASNER & H. E PROF ROYSON MUKWENA, HIGH COMMISSIONER – ZAMBIA | RECEIVING AWARD FROM LONDON MAYOR BORIS JOHNSON | ALL RECIPIENTS RECEIVING THEIR AWARDS FROM LONDON MAYOR BORIS JOHNSON |
| BORIS CONSULTS THE RABBI | LONDON MAYOR BORIS JOHNSON SIGNS THE MESSAGE BOOK AS THE RABBI LOOKS ON | RABBI SILBERHAFT PRESENTS MAYOR BORIS JOHNSON WITH A "46664 MANDELA BRACELET" |
| MESSAGE FROM MAYOR BORIS JOHNSON | CHIEF RABBI LORD JONATHAN SACKS INSCRIBING A MESSAGE | PETER & HERMOINE STERNBERG, RABBI MOSHE & SAM BENATAR – ZIMBABWE |
| GITA & ISRAEL, MOSHE & YOSSI SILBERHAFT | RABBI MOSHE SILBERHAFT WITH JEFF DURKIN, CO-PRESIDENT COMMONWEALTH JEWISH COUNCIL AND TRUST | YOSSI SILBERHAFT, SYMA WINEBERG & RABBI MOSHE SILBERHAFT |
| CHAIM EHRLICH & RABBI MOSHE SILBERHAFT | CLAUDIA BRAUDE & RABBI MOSHE SILBERHAFT | YOSSI SILBERHAFT, TARRYN COHEN & RABBI MOSHE SILBERHAFT |
Rabbi Moshe Silberhaft receives coveted CJCT Award in London - David Saks
For his "dedication and service to the Jewish people of Sub-Saharan Africa, and particularly in Zimbabwe", Rabbi Moshe Silberhaft became the latest recipient of the Commonwealth Jewish Council and Trust Award (CJCTA) at last Tuesday's 25th CJCTA dinner at London.
The award was presented by London Mayor Boris Johnson, one of the many distinguished personalities (including members of European Royalty) that attended. Also presented on the night was a Special Award to Mark Sofer, the UK-born Israeli Ambassador to India, and a Posthumous Award to the distinguished Indian Jewish parliamentarian and businessman Lalit Suri.
Chief Rabbi Lord Jonathan Sacks and Lady Sacks, who generally do not attend functions of this nature, made an exception on this occasion in special recognition of Rabbi Silberhaft's being so honoured.
Rabbi Silberhaft, on account of the poor response within South Africa to the appeal on behalf of Zimbabwe Jewry, has been very active in fund-raising for that purpose in the UK.
A large delegation from the African Jewish Congress (AJC) joined Rabbi Silberhaft for the occasion. They included AJC President Mervyn Smith and Ann Harris, a joint recipient of the award with her husband, the late Rabbi Cyril Harris, in 2000. Also there were his parents and son, Yossi, who is currently studying at a Yeshiva in Israel.
In accepting the award, Rabbi Silberhaft described himself as "deeply humbled" by the honour, saying: "I know I am not the hero in the story being acknowledged here this evening. Indeed, I accept this award on behalf of others; specifically, the beneficiaries of the African Jewish Congress's work."
He went on to stress the lasting influence that the late Chief Rabbi Cyril Harris had had on him, both in his personal and his professional life. It was from this other "son of the Commonwealth", he said, that the universality of the Jewish message of tikkun olam - repairing the world – had been heard by so many people in the years leading up to and after the end of apartheid.
Living Jewishly involved more than kosher food, Rabbi Silberhaft continued, but also included striving to make the world a better place. "I'd like to believe that helping the people in the communities to which I minister and maintaining the Jewish aspects of their lives they wish to observe, our work through the African Jewish Congress is supporting them in their work of tikkun olam" he said.
The famously charismatic Johnson focused on the London's many attractions, strengths and potential, and the important role the Jewish community had played and was playing in this regard since Oliver Cromwell had allowed Jews once more to settle in England during the 1650s.
The message placed by the AJC, together with the international Jewish organisations it represents, in the special brochure brought put out for the occasion read: "The AJC is proud to congratulate Rabbi Moshe Silberhaft on receiving the Commonwealth Jewish Council and Trust Award for 2009. To our Rabbi Moshe, the AJC's dedicated and wise Spiritual Leader, known far and wide as The Travelling Rabbi, we say a hearty 'yishar koach!'
"It is through your outstanding work that the AJC succeeds in its mission of fostering Jewish life and building ties of friendship and co-operation amongst the Jewish communities of Sub-Saharan Africa."
In his capacity as Spiritual Leader and CEO of the African Jewish Congress, Rabbi Silberhaft performs a wide variety of functions, not just in the pastoral-religious realm, but in the humanitarian, diplomatic and conservationist spheres as well. He has met with Heads of State and senior members of government in most of the AJC-affiliated countries, and assisted in the establishment of formally constituted Jewish communities in Botswana and Mauritius.
In selecting him for the award, special cognisance was taken by the Commonwealth Jewish Council of pivotal role in coordinating humanitarian relief initiatives on behalf of Zimbabwe Jewry over the past few years.
In addition to his AJC duties, Rabbi Silberhaft is also Spiritual Leader to the South African Country Communities, a special department of the SAJBD since 1949. His work includes making regular pastoral visits, cemetery maintenance, arranging welfare assistance where required and officiating at life cycle events.