KITWE: SONS HONOUR MEMORY OF MAX MELAMED
FEBRUARY 2007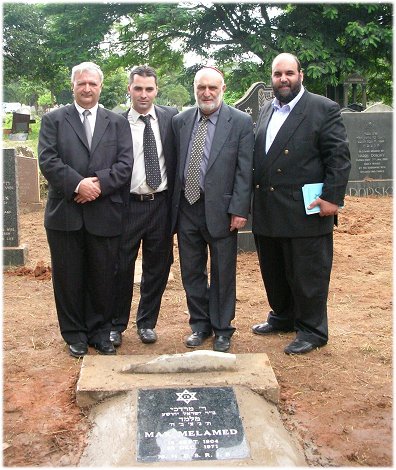 Ian, Jonty, Graham Melamed and Rabbi Moshe Silberhaft
standing in front of the grave of Max Melamed

On 17 November 2006, an article describing the discovery of a long-forgotten Jewish cemetery in Mufulira, Zambia, appeared in the S A Jewish Report. The cemetery was discovered in the course of a "mitzvah mission" headed by the African Jewish Congress to place a new tombstone on the grave of Sarah Mohrer, a Jewish resident of the now long defunct Mufulira Jewish community. In the course of his trip Rabbi Moshe Silberhaft, Spiritual Leader to the African Jewish Congress, also visited the Kitwe Jewish cemetery. There he made a second important discovery, the almost completely buried remains of the smashed headstone of Max Melamed, who passed way in December 1971.

Ian Melamed, the late Max's son, was shocked on reading about what had happened to his father's grave. He met with Rabbi Silberhaft, and it was decided to have a new headstone made and erected on the grave.

On 19 February this year Max Melamed's two sons Ian and Graham and Ian's youngest son Jonathan accompanied Rabbi Silberhaft to Kitwe. There they were joined by Gus Leibowitz, a long-time Jewish resident of the town. All five gathered together at the final resting place of Max Melamed for the ceremonial relaying of the new headstone (which was laid flat in concrete to prevent future vandalism). Rabbi Silberhaft spoke about the sacred responsibility of children to ensure the care and sanctity of their parent's graves. As there was no minyan at the graveside, Ian and Graham recited Kaddish for their beloved father in Johannesburg the following day.

Max Melamed and his wife Ann arrived in Chingola, Zambia, in 1958 to work for Max's brother-in-law, Morris Gersh. Ian and Graham attended Chingola High School, and afterwards Ian worked in the Standard Bank in Kitwe. After his father's death, Ian successfully applied for a transfer to Salisbury (now Harare), Rhodesia, his reason being that there were "no Jewish girls to marry on the Copperbelt" (upon receiving this application, his superior asked "if the application was on passionate or compassionate grounds"). Ian succeeded in finding a Jewish bride and the couple, after a short stay in the UK, settled in South Africa in 1981.

Ian commented on how different the Zambia of today was from that of his boyhood, but was grateful that Jewish graves continued to be properly looked after, despite the virtual disappearance of the Jewish community. It was "truly marvellous", he said, that someone cared enough to keep a very old cemetery such as Kitwe's in so clean and respectful condition.

Graham Melamed commended Rabbi Silberhaft and Gus Liebowitz on the amazing work they had done to preserve the Jewish heritage.

"Yesterday was a very emotional day, with its emphasis on our beloved father, Max Melamed, but there were also moments of joy when we remembered the fun times we had in Zambia in our formative years" he said.