US 'JOINT' DELEGATION SEES FOR THEMSELVES ZIMBABWE'S WOES – JANUARY 2007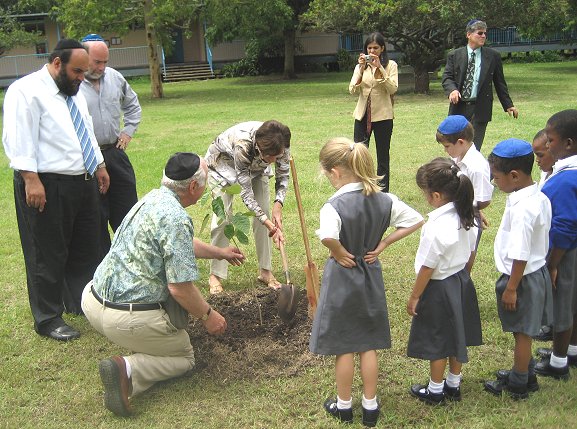 Mr Shale Stiller of the Wineberg Foundation and Judge Ellen Heller, President JDC planting a tree in honour of Tu B'Shvat while Rabbi Moshe Silberhaft, ALBERT Bondie, Chairman of the Sharon School and pupils look on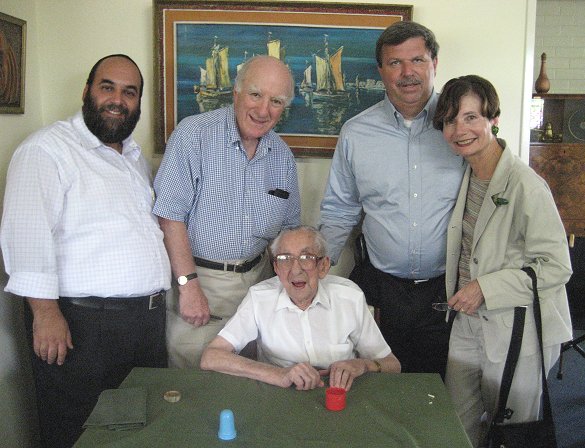 L- R – Rabbi Moshe Silberhaft, Shale Stiller, Steve Schwager, and Judge Ellen Heller visiting
Reb Leizer Abrahamson (seated) aged 107

Life in Zimbabwe is a daily struggle for survival for both black and white as the country's prolonged economic crisis continues its downward spiral.

Recently, a delegation from the American Jewish Joint Distribution Committee (JDC), conducted a fact-finding trip to the stricken country, to ascertain the current state of the Zimbabwe Jewish organizations and evaluate potential assistance to them within the credo and policy of the JDC. To this end, meetings took place with the leadership of the Harare Hebrew Congregation, Sephardi Hebrew Congregation, Sharon School, Zimbabwe Jewish Board of Deputies, Bulawayo Hebrew Congregation and the Jewish aged home, Savyon Lodge.

The JDC delegation was a high-powered one, comprising Judge Ellen Heller (President), Steve Schwager (Executive Vice-President and CEO), Shale Stiller (President - Weinberg Foundation), Irving Smokler (Treasurer) and Michael Schneider (Hon. Executive Vice-President). Accompanying it were Rabbi Moshe Silberhaft, Spiritual Leader to the African Jewish Congress (AJC) and Peter Sternberg, one of the vice-presidents of the African Jewish Congress.

An estimated 300 Jews remain in Zimbabwe, with 60% living in Harare, the capital, and nearly of the remainder in Bulawayo. Despite the difficulties of daily life, including dealing with the leadership vacuum caused by emigration, the community remains close-knit and active. The Bulawayo congregation, the oldest in the country, still has the services of a spiritual leader, Rabbi Nathan Asmoucha.

In Harare, the Sephardi and Ashkenazi congregations now join for purposes of maintaining regular minyanim, although they have not formally amalgamated. Both centres maintain primary schools for the remaining Jewish children, Sharon School in Harare and Carmel School in Bulawayo. Sharon has ten Jewish learners in a total pupil body of 200 while Carmel School has just four. Savyon Lodge, is located in Bulawayo and has twenty six residents. The representative body of the community is the Zimbabwe Jewish Board of Deputies, which amalgamated two years ago with the Central African Zionist Federation.

During the visit to Sharon School, Judge Heller and her husband, Shale Stiller, planted a tree in honour of the forthcoming Tu Bishvat festival and also to commemorate the delegation's visit. Rabbi Silberhaft spoke to learners on the significance of Tu Bishavat at a special assembly.

At Savyon Lodge, the Delegation had the opportunity of meeting Zimbabwe's oldest resident, Reb Leizer Abrahamson, whose 108th birthday is due to be celebrated in April this year. Schwager commented that Reb Laizer was certainly the oldest Jew he had ever met and possibly the oldest in the world.

Members of the delegation also met with Dr Eric Bloch at the home of Jurick and Tanya Goldwasser, former two-time mayor and mayoress of Bulawayo. Bloch provided a comprehensive analysis of the local political and financial situation in the country. Even though an estimated three million people - nearly a quarter of the total population - have left over the past decade, unemployment stands at over 80%.

The inflation rate in Zimbabwe is just under 1500%, with a 5000:1 ratio of the Zim dollar the US dollar (this even after a three-zero devaluation of the Zim dollar that took place recently). Inflation has had the effect of wiping out people's savings. A million Zim dollars, that ten years ago could have bought a comfortable house, now barely buys a month's groceries. Rabbi Silberhaft mentioned the case of an elderly Jewish couple who bought a kosher chicken for Rosh Hashanah and had just now finished paying it off.

Judge Heller commended Zimbabwe Jewry on their sterling efforts in maintaining Jewish life against all odds.

"The small Jewish community is small but remains Jewish and is proud of its Jewish heritage and still practices Judaism. It is isolated from the rest of the Jewish world and is in need not only of financial support for individual cases but must be given support so they know that the are not alone" she said.

The delegates also noted with approval the high standard being maintained at Savyon Lodge, where the Jewish aged were "cared for with dignity and encouraged to maintain their self respect".

Schwager said that the JDC regarded itself as "the 911 of the Jewish world", hence its decision to see what was happening at first hand on the ground in Zimbabwe.

"We found a once flourishing Jewish community in need of long term capital and emergency needs that have to be addressed. Together with the African Jewish Congress, we commit ourselves to making their lives better" he said.


Dear Board Member,





Members of our Board, my children, and my friends often ask me if there are Jews living in a particular country here or there around the world. I generally respond that Jews—even as few as ten Jews living in Myanmar in Southeast Asia—live in virtually every country around the world.





During the last two weeks, Ellen, Shale Stiller, Irv Smokler, Michael Schneider, and I visited Jewish communities in both Zimbabwe and then in Cape Town and Johannesburg, South Africa. This was the first time in our ninety-two year history that a JDC president visited these two countries.





For those who do not know,

Zimbabwe is the former British colony of Rhodesia and is located just north of South Africa. We planned this trip after receiving reports that the small Jewish community there was having significant difficulty meeting its basic needs. Our concern was compounded by the continuous newspaper reports of a country living in extreme poverty and on the verge of economic collapse.





Zimbabwe today has about 12 million citizens, of which 20,000 are white. The poverty line for a family of five is $70 a month. Eighty percent of the population lives below this level. The government reports 85% unemployment, with 1.6 million people infected with HIV-AIDS.





At its peak, the Jewish community totaled 7,000; today there are only approximately 300 Jews who are split between the country's two major cities:

Harare and Bulawayo. Both cities were a major surprise to us. There were many fine homes owned by both whites and blacks and the residents we met downplayed the crime and safety issues. However, every home had a wall around it; some were surrounded by electrified fences.





The economic situation is continuing to deteriorate for all of

Zimbabwe's citizens and there is a large and growing black market in currency. The official exchange rate is $1 US to 250 Zimbabwe dollars (

ZWD

). On the black market, $1 US buys 5,000

ZWD

. Consequently, prices in local currency have increased 1,000 percent a year. What cost 1,000

ZWD

at the beginning of 2006 costs 10,000

ZWD

today.





As you can well imagine, pensioners and all those without access to hard currency have seen radical declines in their standard of living. Several of the Jewish elderly are making ends meet by having their children send money to them from abroad, which can then be exchanged at the black market rate.





The community in

Harare now numbers 180 members and it has two congregations (Sephardic and Ashkenazi), each with its own campus. But the realities of the day have forced them to combine congregations for Shabbat services so that they will have a minyan. Friday night they pray in one of the synagogues and on Saturday they pray in the other. However, each congregation prefers to cling to its own facility rather than face the reality that both campuses could be sold and their proceeds used to buy a smaller facility which would meet the needs of a much smaller and more elderly community. The balance of the money could be used as an endowment to meet future needs. JDC clearly has a role to play here and we will see if this can be facilitated with our partners in South Africa.



The community also operates—on a self-sustaining basis—a "Jewish school" with 300 pupils, four of which are Jewish. The rest are both black and white students who are sent there because of the high quality of education. Tuition is about $400 US a year. The school has a Jewish curriculum; while we were there, the students celebrated

Tu

B'Shvat

and Ellen planted a tree to celebrate our visit.



We went from

Harare to Bulawayo by air. The plane was made in China, but it was far better than many of the soviet aircrafts that we have flown in on JDC trips.



From the airport, we went to

Sayvon

Lodge, the Jewish community's only old age home, serving 23 residents. We spent time with many of the residents, including three senior citizens over the age of 100. One gentleman, Mr.

Leiser

Abramson, is 107 years old and in good shape. The home itself was a tribute to the caring leadership in the community. It was refreshingly clean and attractive.



We were told that the community consists of 118 Jews, including the 23 people living in Savyon Lodge, out of the city's total population of 1.5 million residents.





Like

Harare, the community has a "Jewish school" with an enrollment of 250 children, six of whom are Jews. The school is also self-sustaining. The curriculum here, again, is that of a Jewish school with black and white students learning Hebrew and celebrating the Jewish calendar.





For the most part, both communities are meeting their basic needs from funds that they have on hand, from relatives sending money in from abroad, or from other donations. However, both the

Harare and Bulawayo communities are troubled by what could happen if a poor, elderly Jew needed significant medical help and/or medicines that are only available outside the country. They also expressed concern as to how they would deal with major capital repairs and renovations to the Jewish infrastructure. The home for the elderly, for example, needs an emergency generator to provide electricity during the frequent blackouts; unfortunately, they cannot afford it.





Ellen and I cannot overemphasize the significance of our visit on the morale of the communities in both

Zimbabwe and South Africa. The Jews living there are similar to the remnant communities in other countries we serve, such as Morocco, Tunisia, Egypt, and Algeria in North Africa. They are far from the major Jewish centers and they need to know that world Jewry will be there to help in times of real need. In the interim, our visit has certainly shown them they are not alone.





Ellen, Irv, Michael, and I will be discussing the issue further and hopefully making a recommendation to the Executive Committee in March to help meet the critical and urgent needs of the

Zimbabwe and the other 13 small Jewish communities in sub-Saharan Africa. In this part of the world, you might be surprised to learn that there are small Jewish communities in Botswana, Congo, Kenya, Lesotho, Madagascar, Malawi, Mauritius, Mozambique, Namibia, Swaziland, Tanzania, Uganda, and Zambia.





Ellen and I firmly believe that our worldwide mission of rescue, relief, and renewal in the Diaspora must also guide our actions in sub-Saharan

Africa. "All Jews are friends to one another." Our leadership has always said that when there is a Jew in need and no other help is available, JDC will be there. We must seize this opportunity and respond, as we always do, to the needs of our worldwide family.





Until next time,

For more information about the world of JDC, please go to www.jdc.org.