The passing on 27 April 2012 of Harold Pupkewitz, renowned businessman, philanthropist and Jewish communal leader, marked the end of an era for the Jewish community of Namibia, and indeed for the country as a whole. It was a measure of the tremendous status Pupkewitz enjoyed in his homeland that amongst those attending his funeral were Namibian President Hifikepunye Pohamba, Prime Minister Nahas Angula, cabinet ministers and members of the diplomatic corps.
Born in Vilna in 1915, Pupkewitz was nine years old when he arrived in Windhoek. Excelling at school, he obtained bursaries to study at the University of Cape Town, after which he joined the family general dealer business. In July 1946, he co-founded M Pupkewitz and Sons, a group which under his chairmanship steadily expanded until it had outlets throughout the country. In 1981, the different companies were brought together under the umbrella organization Pupkewitz Holdings, which in 2005 employed 848 people nationally.
Pupkewitz was deeply patriotic, committing himself whole-heartedly to building up Namibia, both before and after independence. His multiple philanthropic activities include endowing what is now named the Harold Pupkewitz Graduate School of Business at the Polytechnic of Namibia. He served and held high office in various public welfare, economic and educational bodies, including for 50 years on the Windhoek Chamber of Commerce and, after 1997, on the President's Economic Advisory Council. He received numerous awards, and in May 2007, one of Windhoek's most important thoroughfares was renamed 'Harold Pupkewitz Street' in recognition of his multiple contributions to the city.
Although most of those present were not Jewish the funeral, organised by the Jewish community's lay leader Zvi Gorelick, was run along strictly halachic lines. On arrival, President Pohamba was escorted to the Ohel by Rabbi Moshe Silberhaft, Spiritual Leader to the African Jewish Congress, who explained to him and other government members the various rituals of the day and their meaning. Pohamba was one of the first to shovel the traditional three scoops of earth onto the coffin, after which he thanked the Rabbi for making him and his colleagues feel so welcome and involved.
Many were surprised that someone of Pupkewitz's stature was being laid to rest in a plain pine box, and that the burial ceremony itself was so modest and under-stated. Rabbi Silberhaft explained how this represented the Jewish view that just as people came into the world with nothing, so did they leave it, taking with them only the good deeds they had done. This message came through with particular force in the case of Harold Pupkewitz, who despite accumulating such enormous wealth during his lifetime nevertheless left the world empty-handed save for his many meritorious actions.
The funeral received extensive coverage on the front pages of all the major Namibian dailies, as well as a ten-minute slot on national television. Some of the headlines were, "Shalom Uncle Harold" (The Namibian), 'Hamba Kahle, Great One' (Daily Graphic) and 'Einde van 'n Era' (Die Republikein). Further articles detailing Pupkewitz's extraordinary range of achievements featured elsewhere in the same newspapers.
Pupkewitz served almost continually on the committee of the Windhoek Hebrew Congregation from 1938 onwards, including long periods as president. He became a founder and Vice-President of the African Jewish Congress (AJC) in 1993, and remained actively involved on it right up until the end. AJC founder and President Mervyn Smith described the passing of his colleague as an irreplaceable loss for Southern African Jewry.
TRIBUTE SERVICE IN HONOUR OF DR HAROLD PUPKEWITZ PARLIAMENT GARDENS – WINDHOEK NAMIBIA 22 MAY 2012
1. National and AU anthem by the College of Arts Youth Choir
2. A Prayer by Rabbi Moshe Silberhaft
3. Welcoming Statement by Mrs. Martha Namundjebo-Tilahun, President of NCCI
4. Statement by Adv. Vekuii Rukoro, President of Namibia Employers Federation
5. Statement by Dr Tjama Tjivikua, Rector of the Polytechnic of Namibia on behalf of the Harold Pupkewitz School of Business
6. Polytechnic Choir
7. Statement by staff of the Pupkewitz Group of Companies ( 4 x )
8. Statement by Ms Anthea Barry, granddaughter of the late Mr. Harold Pupkewitz
9. Statement by Dr. Hage Geingob, Minister of Trade and Industry
10. Statement by Tony Pupkewitz on behalf of the Pupkewitz family
11. Keynote Message by the Right Honourable Prime Minister, Mr Nahas Angula
12. College of the Arts choir
13. Vote of thanks by Mrs. Meryl Barry, Pupkewitz Foundation
14. AU and National anthem by the Polytechnic Choir
Prayer by Rabbi Moshe Silberhaft
We come together this afternoon to mourn the loss of Harold Pupkewitz. Our hearts are broken and we feel his loss. As painful as his loss may be, we believe that what G-d has given us in Harold is infinitely better than what we have lost. Lost is the physical body of a person who walked by our side for 96 years.
What is left for us who remain behind are the memories of a person who has filled our lives with love and deep-rooted values, of a person who inspired us throughout our lives. That cannot be taken away from us. The memory of Harold will always be with us, as long as we are able to walk the face of this earth.
You could lose everything. Your money can come and go. Love can come and go. Your good luck and fortune can come and go, but the one thing that will always stay with you is that special, God-given gift of memory, which will always belong to you. The gift of memory is a special gift given to us. Our loved ones can always inspire and motivate us, even when they are long gone from this physical world.
Harold Pupkewitz was a giant in his generation. Many of us have met and read about highly successful businessmen. What makes Harold stand head and shoulders above them all was his tremendous generosity.
Numerous people make a fortune; few are willing to share that wealth. Harold made assisting others an integral part of his business ethic.
Whether it was empowering the people of Namibia, providing for the elderly in Johannesburg or supporting various charities in Israel, Harold ensured that the biblical dictum of "Love thy neighbour as thyself" was fulfilled, both for Jew and non-Jew alike.
When a person takes leave of this temporal world, how is one remembered? The greatness of one's legacy is directly proportional to the amount one helped others. This is how a person is measured, this is how a person is eulogised and this is what remains behind when nothing can be taken with. We all have much to learn from Harold's nobility.
When a Jew passes away, the mourners intone the Kaddish prayer. The words of the liturgy are: "May God's great Name be raised…" Strangely there is no mention at all of the dead or death anywhere in this supplication. Why was this prayer chosen by the Rabbis to be recited by the mourner?
The answer is clear once we consider Harold's life. When someone of his caliber leaves this world, God's great name is brought low. There is less good, less decency and less righteousness in this world. This lessens God's name. We therefore pray, "May God's great Name be raised…".
How is this to be achieved? Simply by us following in Harold's footsteps. By emulating his good deeds, care for the other, love and concern for the people of Namibia, and his love of the Land and People of Israel. This will help, in a small way, to fill the vacuum that his death has left behind.
We will thereby raise God's name that has been brought low by this sad loss.
Can I ask you all to please rise:
O Lord who art full of compassion, who dwellest on high – God of forgiveness, who art merciful, slow to anger and abounding in loving-kindness, grant pardon of transgressions, nearness of salvation, and perfect rest beneath the shadow of thy divine presence, in the exalted places among the holy and pure, who shine as the brightness of the firmament, to Harold Pupkewitz who hath gone to his eternal home.
We beseech thee, O Lord of compassion; remember unto him for good all the meritorious and pious deeds which he wrought while on earth. Open unto him the gates of righteousness and light, the gates of pity and grace. O shelter him for evermore under the cover of thy wings; and let his soul be bound up in the bond of eternal life. The Lord is his inheritance; may he rest in peace, and let us say. Amen.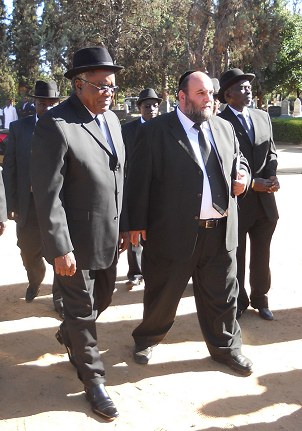 Rabbi Moshe Silberhaft escorts Namibian President Hifikepunye Pohamba, Prime Minister Nahas Angula and various cabinet ministers to the Ohel.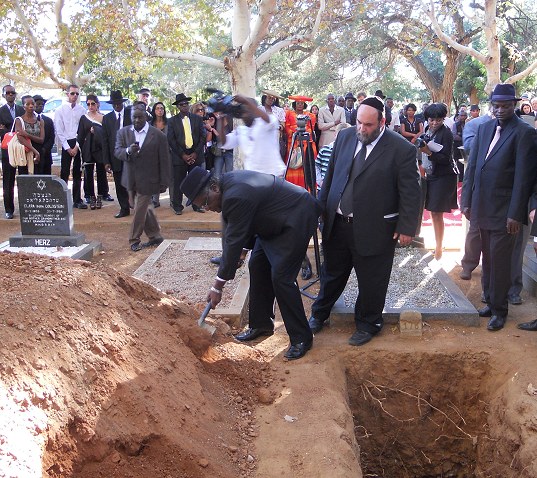 Namibian President Hifikepunye Pohamba shovelling the traditional three scoops of earth on the grave of Harold Pupkewitz watched by Rabbi Moshe Silberhaft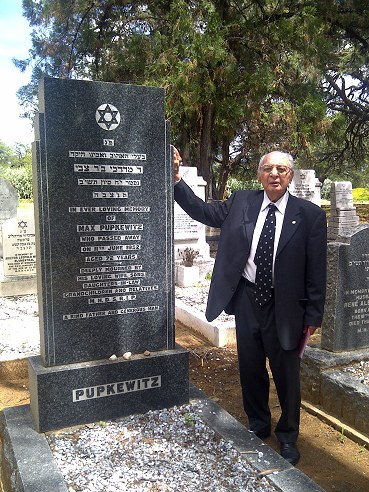 HP 12 Feb 2012 – The last visit of Harold Pupkewitz to his Late father's grave – 12 February 2012