BLOEM GIVES GOLDSTEINS A ROUSING WELCOME - SEPTEMBER 2006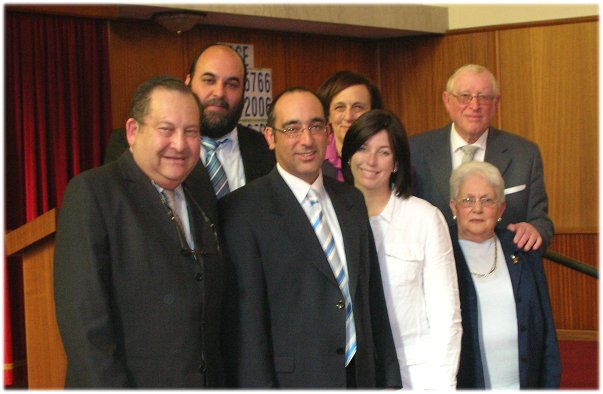 MR JUSTICE RALPH ZULMAN, RABBI MOSHE SILBERHAFT, CHIEF RABBI DR WARREN GOLDSTEIN, MRS JEANNETTE ZULMAN,
MRS GINA GOLDSTEIN, RONNIE ROSEN AND GOLDIE ROSEN

Nearly a hundred people, comprising over two-thirds of the Bloemfontein Jewish community, were in attendance at a luncheon in honour of Chief Rabbi Dr Warren and Mrs Gina Goldstein last Sunday.

Also in attendance was Country Communities' Spiritual Leader Rabbi Moshe Silberhaft, who pays regular pastoral visits to Bloemfontein now that the community no longer has a full-time rabbi. During the visit Rabbi Silberhaft, accompanied by Rabbi and Mrs Goldstein, inspected the Jewish cemetery, where in line with policy adopted by the Country Communities Department, a division of the SAJBD, the headstones have been laid flat to prevent future vandalisation.

In his well-received address, Rabbi Goldstein focused on how the eternal survival of Jewish peoplehood was ensured by the unswerving adherence of Jewish communities everywhere to the commandments of the Torah.

Bloemfontein Jewry, through the sterling manner in which they maintained traditional Yiddishkeit in their city, thereby ensured that they remained a part of "Knesset Yisrael", the community of Israel that spanned eternity.

Rabbi Goldstein referred to the Parsha of the week, Parshat Ki Teitzei, noting that it comprised mainly commandments and very little narrative. The fact that the mitzvot of the Torah controlled every aspect of human existence meant that Jews could be continually occupied with it in everything they did; they were never alone since through observing the commandments they ensured that they were continually connected to the Divine.

"We are part of a vertical Jewish community going back to Mount Sinai 3318 years ago. As long as we are committed to the values of Sinai, we are part of eternity" he said.

Rabbi Goldstein was welcomed by United Hebrew Institutions of Bloemfontein President Ronnie Rosen, who complimented the Chief Rabbi on the "dignity and erudition" he had displayed in the short time he had held office.

In introducing Rabbi Goldstein, Rabbi Silberhaft emphasised how his childhood and background were rooted in the values and dedication to Judaism that epitomised the South African Jewish community.

Thanks were given by Mr Justice Ralph Zulman, who as a Judge of Appeal is based for lengthy periods in Bloemfontein, the country's judicial capital. Solly Kroll, trustee of the UHI Bloemfontein, presented Chief Rabbi and Mrs Goldstein with an inscribed silver tray commemorating their visit.

Afterwards Mr Justice Zulman took Rabbi Goldstein, who holds a PHD from the University of Witwatersrand School of Law and is an advocate of the High Court, on a tour of the Appeal Court.