RECITING BIRKAT HACHAMA ON THE STEPS OF THE BLOEMFONTEIN SHUL - 5769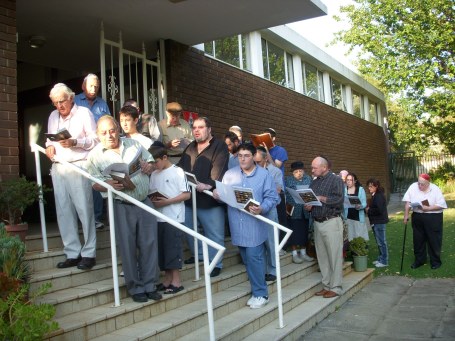 Birkat Hachama, a ceremony held every 28 years to mark the creation of the Sun, was observed this year by Jewish individuals and communities in various small South African country communities and as far a field as Uganda and Mauritius.
This widespread participation in the ceremony was in no small part due to the efforts of Rabbi Moshe Silberhaft, Spiritual Leader to the SA Country Communities and to the African Jewish Congress.
Prior to the event, Rabbi Silberhaft circulated an email to his widely scattered congregation, informing them of it and providing an information booklet he had adapted for their reference. In due course, he received reports and pictures of people observing the ceremony from all parts of the continent.
Because he had had to conduct a funeral there the previous day, Rabbi Silberhaft was in Bloemfontein for the recitation of Birkat Hachama early in the morning on Erev Pesach. He led the congregation in the ceremony and afterwards conducted the traditional Erev Pesach Siyum for the First Born.
Rabbi Silberhaft is a regular visitor to Bloemfontein, which holds daily and full Shabbat services but has been without the services of a rabbi for the past eight years.
The size of the community remains stable at around 120 Jewish souls, most of who are affiliated to the Bloemfontein Hebrew Congregation and including six members from the country areas. There has been an unbroken Jewish presence in the city virtually from its inception in 1846.