TWO BURIALS AND A BAR MITZVAH IN BULAWAYO - AUGUST 2006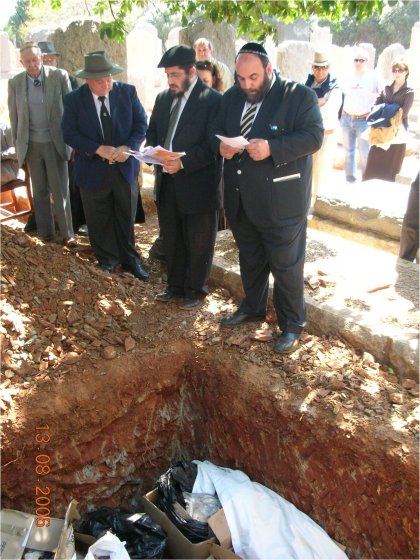 L – R DR BERNIE TATZ – MR. BRIAN SHER, PRESIDENT BULAWAYO CHEVRA KADISHA
RABBI NATHAN ASMOUCHA & RABBI MOSHE SILBERHAFT

Two different kinds of burials and a rare barmitzvah marked the activities of the Bulawayo Jewish community last weekend. On Shabbat morning, members of the local Jewish and non-Jewish community and over 100 guests who travelled from all over the world gathered to celebrate the barmitzvah of Benji Lasker, son of community stalwarts David and Shelly Lasker. This was a rare celebration for the fast declining Zimbabwe Jewish community, whose average age is over seventy. The following day veteran Zionist activist Arthur Kaplan was laid to rest, after which the sifrei kodesh damaged beyond repair in the fire that destroyed the Bulawayo synagogue in October 2003 were buried.


Rabbi Moshe Silberhaft, Spiritual Leader to the African Jewish Congress, was in Bulawayo to participate in the weekend's events. Speaking at the Friday night service, he exhorted the community not to be unduly impressed or disheartened by the negative opinion of the outside world against Israel, saying that Jewish should unapologetically assert both their right to exist and the hand of G-d in their history and destiny.

The Shabbat services took place in the Sinai Hall, which was once the temple for the local reform community, but which since the destruction of the historic Bulawayo synagogue has been used by the Orthodox community on Shabbat and Yom Tov. Weekday services are held at the Jewish aged home, Savyon Lodge. The service on Friday night had to be held by candlelight as a result of yet another of the extended power cuts that now take place virtually on a daily basis in the city.

On Sunday morning, Rabbi Silberhaft assisted Rabbi Nathan Asmoucha, resident in Bulawayo to officiate at the funeral of Kaplan, who had been responsible for the publication of the Central African Zionist Digest for the past twelve years. This was the sixth funeral to take place in Bulawayo in the past three weeks.

The solemn disposal of the damaged holy books was presided over by Rabbi Silberhaft, who used the occasion to commend Rabbi Asmoucha and his community for their determination to carry on despite the difficult circumstances.

"Just as the Jewish people were not dissuaded after the destruction by fire of their holy temples in Jerusalem, so to the Bulawayo community continues to function after the destruction by fire of their house of worship" he said.