ORIGINAL GATES OF BULAWAYO CEMETERY REDEDICATED – 12 MAY 2013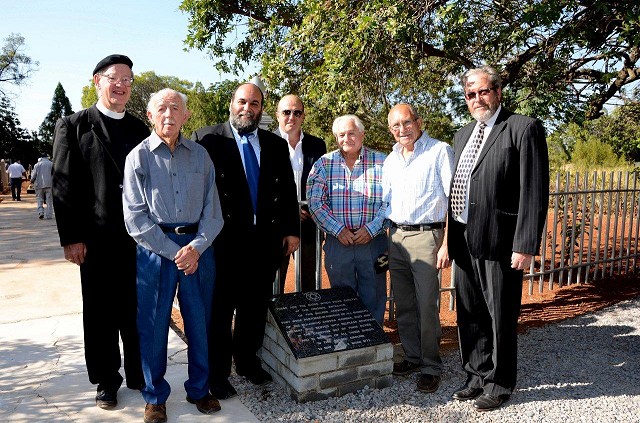 L - R - Anglican Father Francis Day, Harry Shmeizer, Rabbi Moshe Silberhaft, Hylton Solomon,
Brian Sher, Raymond Roth Cantor Eric Wener in front of the gates and memorial stone.
Members of the Bulawayo Jewish community, along with local well-wishers, came together just before Shavuot for a solemn rededication ceremony for the original gates of the historic Jewish cemetery. A plaque in memory of past and present members of the city's Chevra Kadisha was also unveiled. Afterwards, the gathering moved on to the Jewish aged home, Savyon Lodge, to celebrate the 90th birthday of Harry Shmeizer, who immigrated to the then Southern Rhodesia from Eastern Europe as a youth and is today the congregation's lay reader. From a peak of over 3500, the Bulawayo Jewish community now numbers under a hundred souls, but the congregation continues to hold regular Shabbat and Yom Tov services at Savyon Lodge. There are over 1200 graves in the exceptionally well maintained cemetery, some dating back well over a century.
Rabbi Moshe Silberhaft, Spiritual Leader to and CEO of the African Jewish Congress, focused on the eternal nature of the Jewish people and their faith in his address. The inscription on the cemetery gates – Beit Olam – meant 'House of Eternity', and itself alluded to the tenacity and commitment the Jewish people had shown to maintaining their traditions throughout the ages. Despite its small, size, he said, the Bulawayo community continued to epitomize this unfaltering dedication.
Cantor Eric Wiener led the gathering in the recitation of the communal Kaddish, after which the Chevra Kadisha memorial plaque was unveiled by Brian Sher, Raymond Roth, Hylton Solomon and Rabbi Silberhaft.