LIBRARY IN BULAWAYO NAMED IN HONOUR OF RABBI MOSHE SILBERHAFT – JULY 2011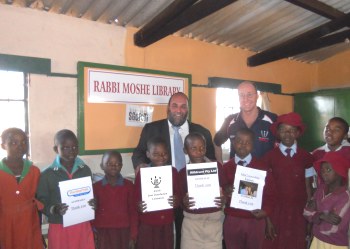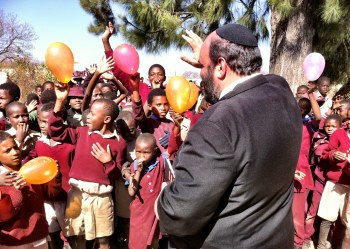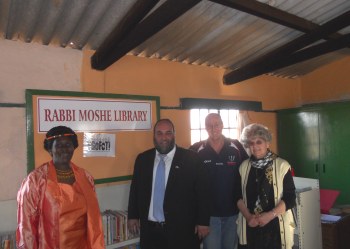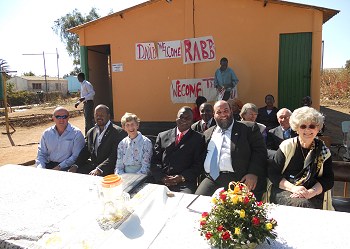 In addition to the economic plight of the country as a whole, HIV-AIDS and illness in general has greatly added to the daily hardship of life in Zimbabwe. Particularly poignant is the plight of countless children who as a result have no-one to care for them. For several hundred such children, last month's opening of a small library in Bulawayo provided a much-needed educational and recreational facility. Perhaps even more importantly, however, it demonstrated that there are people, not just across the border but across the ocean as well and of different races and creeds, who still care about them.
The opening of the Rabbi Moshe Library at Bulawayo's Vulindledla Youth Centre took place on 25 July, in the presence of Bulawayo Mayor Councillor T P Moyo and various other dignitaries. Named after Rabbi Moshe Silberhaft, Spiritual Leader and CEO of the African Jewish Congress (AJC), it brought to fruition a trans-continental partnership involving the AJC, Australian Books for Children in Africa (ABCA) and the Support Group of Families of Terminally Ill (SGOFOTI). The latter was founded and is co-headed by Ruth Bolnick-Feigenbaum, a prominent member of the local Jewish community of many years standing.
The origins of the project go back several years ago, when Sheryl Furman, formerly of Marquard in the Free State and today living in Melbourne, sent Rabbi Silberhaft several hundred books on behalf of ABCA for distribution in Zimbabwe. After discussing the matter with Feigenbaum, it was decided to give half to SGOFOTI and give remainder to various primary schools in Bulawayo. An approach was then made to ABCA donate a larger consignment of books to SGOFOTI with the aim of establishing a library for primary school learners.
In Australia, David Grieves duly undertook to provide this on behalf of ABCA. As part of his fundraising effort, he sold bookmarks made out of original Zimbabwean currency notes from the hyper-inflation years, when a billion Zimbabwe dollars barely paid for a week's groceries. The American Jewish Joint Distribution Committee also chipped in by contributing towards the transport of the books, over 3000 of which were ultimately sent, and shelving for the library.
Grieves, Rabbi Silberhaft and AJC executive member Ann Harris travelled to Bulawayo to take part in the opening function. The latter commenced with prayers from representatives of the Jewish, Christian and Muslim communities, respected delivered by Hylton Solomon, President of the Bulawayo Hebrew Congregation, Father Day and Sheikh Ishmail Jassat. Afterwards, short addresses were given by the mayor, Grieves, Feigenbaum and Rabbi Silberhaft, and the 300 children then sang traditional songs. A film crew from the SABC was also present to record the occasion, with a view to its inclusion in a forthcoming documentary on Rabbi Silberhaft and his first 18 years as the Southern African country communities' rabbi. The documentary, which is being produced by Gus Silber, is scheduled to be shown in November.
In her closing remarks Patricia Tshabalala, who co-heads the running of SGOFOTI with Feigenbaum, spoke with particular warmth about "her rabbi" Rabbi Silberhaft, whom she described as a kind, loving and caring shepherd of his Master's sheep. She stressed how much the library meant to the children in her care, since they now had a sanctuary in which to "hide from the evils of this world", increase their knowledge and no longer be lonely.
"Please tell the Jewish community that I thank them for their love, care and support and for making me and my people part of their family" she said.