Ambassador & Rabbi meet Mugabe – 19 APRIL 2012
Israel's non-resident Ambassador to Zimbabwe, Dan Shaham, presented his credentials to President Robert Mugabe at State House in Harare today. Also present was the African Jewish Congress spiritual leader Rabbi Moshe Silberhaft who visits the country regularly and ministers to the Zimbabwean Jewish community.
After the credentials had been presented and the formal photographs had been taken on the spacious lawns, President Mugabe spoke at some length with the Ambassador and the Rabbi.
President Mugabe "particularly wanted to discuss two issues with the Ambassador," Rabbi Moshe told MyShtetl afterwards. The first issue was regarding agricultural cooperation, and the two politicians discussed the kibbutz system and drip irrigation techniques.
The second topic On Mugabe's mind was the Israeli/Palestinian question, explained Rabbi Silberhaft. Mugabe wanted to understand why the two sides can't come to terms with one another.
On Mugabe, Silberhaft says: "I found him to be highly intelligent, educated and informed – although his age and illness are certainly taking its toll on him." On the Israeli's response: "The ambassador handled these issues very, very well, without compromising his Government's position in any way," says Rabbi Moshe.
The Ambassador mentioned that today was Yom Hashoah, which Mugabe found interesting and, in fact, became quite sombre at the news.
Turning his attention to Rabbi Silberhaft, Mugabe said that he was aware that Silberhaft knew so many African heads of state. Mugabe has been impressed at the work and activities that Rabbi Moshe and the AJC are involved in, not only in Zimbabwe but in other African states too.
Mugabe also reminisced about Dr Mike Gelfand, who had been his mother's - and later the whole family's – doctor. Silberhaft reminded Mugabe of a famous photograph of 'Uncle Bob' Mugabe wearing a kippa and following Dr Gelfand's coffin at his funeral.
The two men discussed the establishment and important activities of the "Rabbi Moshe Library" in Bulawayo. Mugabe said he was mindful of the contribution the small Jewish community played towards the general welfare of Zimbabweans. Rabbi Silberhaft thanked Mugabe for not interfering with Jewish life in Zimbabwe and for endorsing their right to practice their religion.
Mugabe, a staunch Christian, in turn thanked Ambassador Shaham for the tolerance shown by Israel towards all faiths.
Rabbi Silberhaft wished Mugabe well for his recent 88th birthday, and on the 32nd Anniversary of Zimbabwean Independence that was celebrated yesterday.
The Rabbi explained that in Hebrew, the number 32 represents "heart" - and by the numerical representation of 'lamed' and 'vav' (lev = heart) - very much the same as 18 representing CHAI=LIFE. The Rabbi then, in blessing the country, said he hoped their heart would pump well in the future - and that the people should live together in peace through dialogue.
Mugabe was quite taken by this Brocha. "He was genuinely appreciative," Rabbi Silberhaft said afterwards. "I thank you for praying with me and for me," said Mugabe, taking the Rabbi's hand and sporting a huge smile on his face.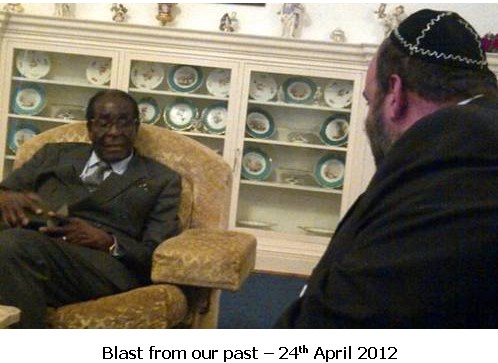 ---
BY ANT KATZ
Shtetler Bernard Unterhalter of Los Angeles addressed the following letter to Rabbi Silberhaft:
I have read with great interest the report of your and the Israeli Ambassador's meeting with Robert Mugabe.
The remarks below brought back a special memory to me:
"Mugabe also reminisced about Dr Mike Gelfand, who had been his mother's - and later the whole family's – doctor. Silberhaft reminded Mugabe of a famous photograph of 'Uncle Bob' Mugabe wearing a kippa and following Dr Gelfand's coffin at his funeral."
Attached is a photograph I have [SEE BELOW]. In the picture on the far right the man wearing a hat is me (Michael Gelfand's brother-in-law) and next to me is Simon Wapnick (Michael's son-in-law).
When moving the coffin out towards the burial site we became aware that there was movement and pushing at the back of the congregation. Two tall men then came forward and the Chevra Kadisha leader stopped and addressed them saying:
"Comrade Mr. Prime Minister Mugabe, would you like to say a few words?" Mugabe said yes, he would, and moved to the front of the coffin.
He then delivered a most magnificent speech eulogizing Michael Gelfand. He told us he had been at an OAU meeting in Addis Ababa, and decided to fly back to Zimbabwe at once, hoping he would not be too late for the funeral.
Thinking back to that speech, I keep wondering what changed him to the worrisome political leader we know of today.
In the days of Rhodesia, Michael Gelfand had been the doctor of Governors and Prime Ministers, but when Mugabe came to power it was thought unsuitable for him to have a white doctor.
However [Mugabe's] mother refused to change and continued to have Mike as her doctor.
There was a particular situation when she needed to be treated in hospital. Michael wanted her in the hospital of Nazareth Home, but there was no room or bed for her.
He found in that hospital a cleaning storage room so he organized for it to be emptied and properly prepared as a room where she could be accommodated and where he could attend to her medical treatment. In earlier years, on weekends, Michael used to visit Mission Stations in the Rhodesian bush, and treat the sick there - it was then he must have met and came to know Mugabe.
The Pope conferred a Knighthood on Gelfand in recognition of his work among that population.