Jewish and Zionist Activities north of Limpopo Continue – April 2010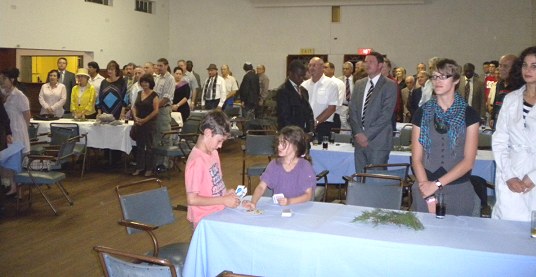 Yom Ha'atzmaut gathering in Harare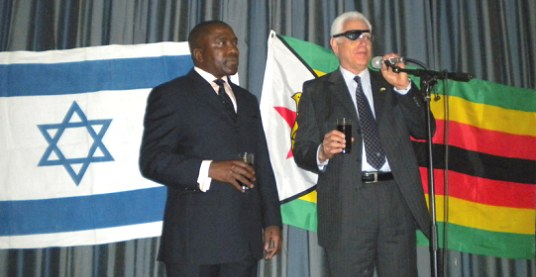 Mr Cecil Chinenere (ZANU-PF) and HE Ilan Baruch
Despite declining numbers and the multiple challenges of day to day life, Zimbabwe Jewry's traditionally strong commitment to Zionism and Israel continues to find expression. Both Yom Hazikaron and Yom Haatzmaut were observed, in Bulawayo and Harare respectively, and there was even a Israeli presence at this week's Harare International Festival of the Arts (HIFA).
Over 60% of the Bulawayo Jewish community gathered at Savyon Lodge, Zimbabwe's Jewish aged home, to mark Yom Hazikaron between Mincha and Maariv. Speakers included Hylton Solomon, President of the Bulawayo Hebrew Congregation, Ilan Elkaim and Eric Bloch. Elkaim presented an outline of the 1948 War of Independence, concluding with an upbeat overview of the dynamic, successful society that was Israel today. Ruth Bolnik–Feigenbaum lit a candle in memory of all the Israeli soldiers who had fallen in the War of Independence as well as those, including her brother Norman Katz (killed in the 1973 Yom Kippur War), who had made the supreme sacrifice in subsequent wars. The ceremony concluded with all men present reciting Kaddish and the singing of Hatikvah.
Last Wednesday, Harare Jewry came together to celebrate Yom Ha'atzma'ut. The function was attended by over a dozen representatives from various embassies and over 120 members of the local Jewish and Israeli community. This was hosted by Ilan Baruch, Non-Resident Israeli Ambassador to Zimbabwe. Also present for the occasion was Rabbi Moshe Silberhaft, Spiritual Leader to the African Jewish Congress.
Mr Cecil Chinenere (ZANU-PF), Director Asia and Pacific Departments – Ministry of Foreign Affairs represented the Zimbabwe government.
The HIFA festival on the same day featured a performance by an Israeli dance group while Israeli actress and playwright Keren Tahor performed her play Jutro. This was also co-ordinated by HE Ilan Baruch, Non-Resident Israeli Ambassador to Zimbabwe.