A MAN AS OLD AS TIME -
HAPPY BIRTHDAY REB LEIZER, ON YOUR 106TH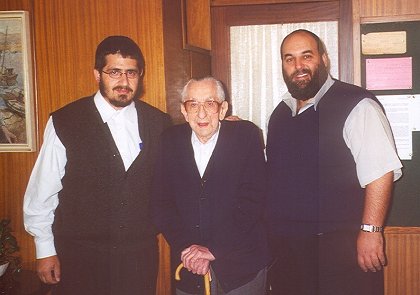 Rabbi Nathan Asmoucha –REB Laeizer Abrahamson & Rabbi Moshe Silberhaft
By Ivor Davis
When I last met that Grand Old Man, Leizer Abrahamson was only aged 104, and I had just had a substantial lunch with wine. During our conversation, I - a mere baby of 72 at the time – dropped off (he didn't) and I was suddenly awoken, hearing Leizer's concerned "How are you, Mr Davis, are your alright?"
A few days ago, I phoned Bulawayo's renowned Jewish old folks home, Savyon Lodge, where Leizer recently celebrated his 106th birthday and I learned he was still conducting Shubbos services, rendering Haftorahs and keeping up his spirits. Is he the oldest Jewish guy around?
Savyon Lodge, like the rest of Zimbabwe, is presently having a hard time getting supplies of cooking oil, sugar, milk and other necessary items and when they are available, their cost in the country's run-away inflation has doubled since the recent "elections". And the situation is expected to get worse.
But this well managed home for the aged presses on regardless and Kol hakavod to those who run it.
For the past 32 years, Leizer from Bialystok, Poland, has resided at Savyon Lodge. His wife of 40 years, Baila, died in 1978. He drove a car till he was 93.