QUEENIE SLADE OF SAVYON LODGE PASSES ON – JANUARY 2009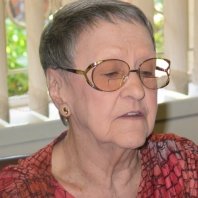 In a society plagued by crushing poverty, political violence and rapidly declining standards of health care Savyon Lodge, the Jewish aged home in Bulawayo, is a rare oasis of stability. Here, residents can depend on at least the basic services being provided for them – food and shelter, medication, water and electricity and physical security.
To an increasing extent, Savyon Lodge's running costs are being met through donations from the wider Jewish Diaspora. But it is not only money that has enabled the institution to maintain its high standards under such difficult circumstances. The selfless, and largely unheralded, dedication of various individuals associated with it has been equally crucial to its success.
One such individual was the late Queenie Slade, long-serving secretary of Savyon Lodge who passed away at the beginning of this year. Those who worked closely with her over the years, including Bulawayo residents Brian Sher, Hylton Solomon and Eric Block and Rabbi Moshe Silberhaft, Spiritual Leader to the African Jewish Congress, all paid tribute to a true "Woman of Worth", one who had always gone well beyond the call of duty in serving her organisation and the community as a whole.
Slade was buried at Bulawayo's Jewish Cemetery in Donovan Road on 14 January. In his eulogy, Block remarked that that much of the credit for Savyon Lodge's worldwide renown and repute as "a real home for Jewish senior citizens" had to be attributed to Queenie Slade.
"For Queenie there was absolutely nothing more important than the wellbeing, comfort and happiness for all at Savyon Lodge. So great was this dedication and motivation that, on many occasions, she said that she would never leave Savyon Lodge, never cease managing it to the best of her abilities, so long as there was even one resident there" he said.
Prior to joining the staff of Savyon Lodge, Slade managed the Baobab Hotel in Hwange, doing so with such success that the then Tourism Board recognized her as Hotel Manager of the Year. She also managed the now defunct Matabeleland Turf Club and Ascot Race Course.