AJC relief mission to Zimbabwe – 10 – 12 February 2008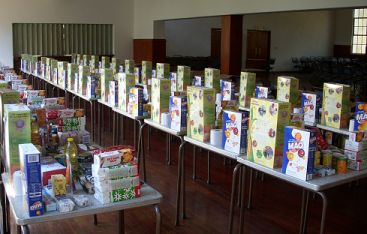 An African Jewish Congress Zimbabwe Fund (AJCZF) has been established to assist needy members of the Zimbabwe Jewish community in light of the steadily worsening economic situation in the country. The AJCZF, is funded by the American Joint Distribution Committee and various local and international donors. Its committee mainly comprises current and former members of the Zimbabwe Jewish community, and is chaired by Sam Benatar, chairman of the Zimbabwe Jewish Board of Deputies.

Other members are African Jewish Congress Spiritual Leader Rabbi Moshe Silberhaft (President), Dr Margaret Williams, Irene Fox, Phillip Hasson and Peter Sternberg.

Last week Rabbi Silberhaft visited Bulawayo and Harare to oversee the distribution of food parcels and other basic necessities. He commented that the situation in the country had worsened considerably since his last visit in November. The airport was in darkness when he arrived, robots no longer functioned and even flushing toilets were now a rarity. According to the International Monetary Fund, inflation levels were now at 150 000 percent, making even the most basic goods – assuming these were even obtainable – virtually unaffordable to the average Zimbabwean.

In Bulawayo, Rabbi Silberhaft visited the Jewish aged home Savyon Lodge, which continues to run smoothly, and met with the leadership of the Bulawayo Hebrew Congregation. In Harare, he addressed the city's Jewish community, after which parcels of food and basic commodities were distributed. Two-thirds of Harare's 200-strong Jewish community are over the age of seventy and fuel shortages make transportation increasingly difficult. Nevertheless, more than half the community attended the meeting. People were encouraged to take parcels for their household servants as well as themselves. Amongst the items distributed were toothpaste, soap, long-life milk, tea, coffee, sugar, toilet paper, cereals, jam, tinned fruit, tinned tuna, flour, candles, matches, soup-cubes, biscuits, and water purification tablets. The latter have become a necessity in a country where fresh water is largely unavailable, something that is resulted in increasing cases of cholera within the population.